Reviews management works. This is a recent review ... it WAS a 1 Star review ... after this exchange, Mr. Gonzalez changed it to a 4 Star review.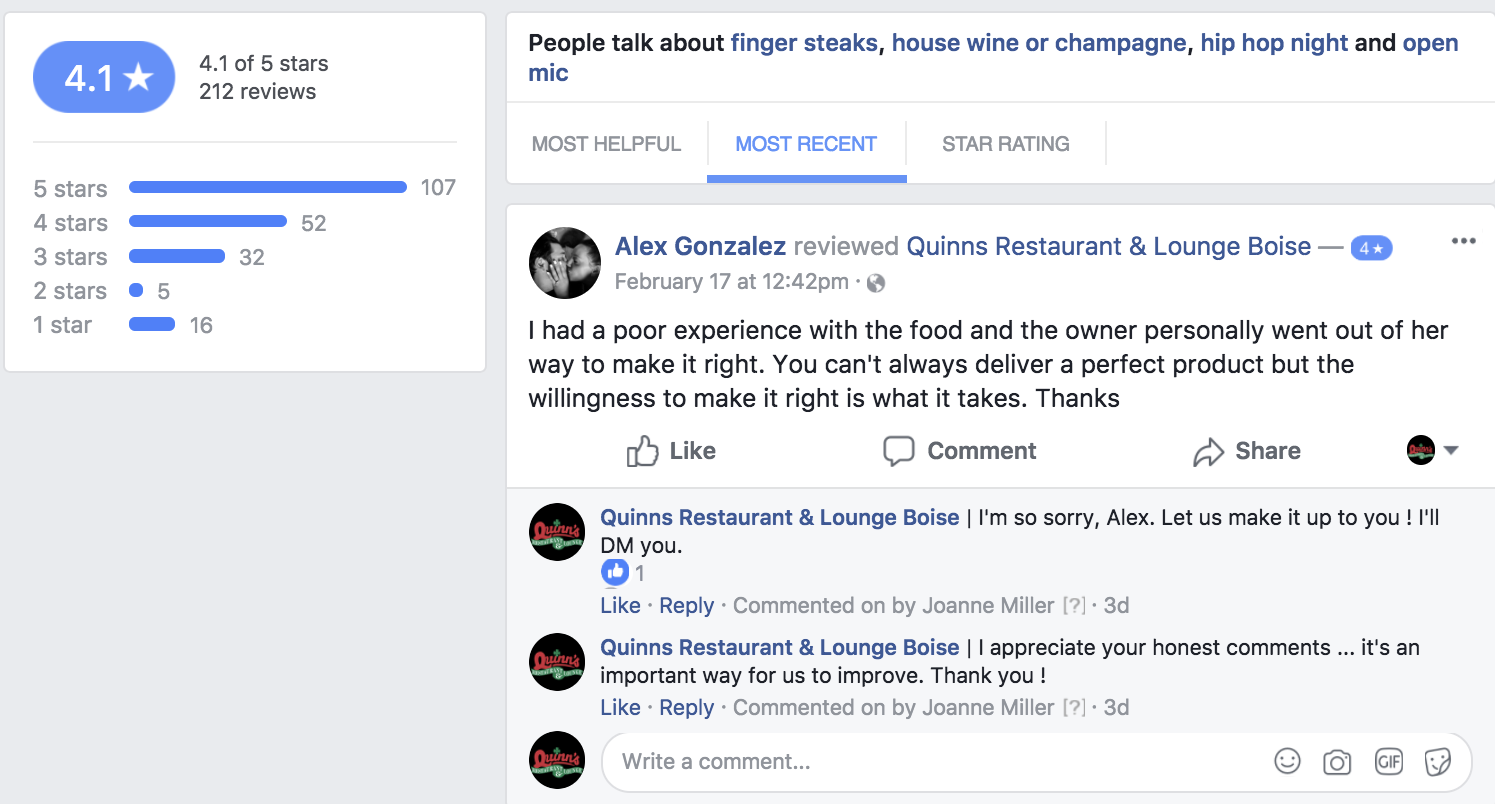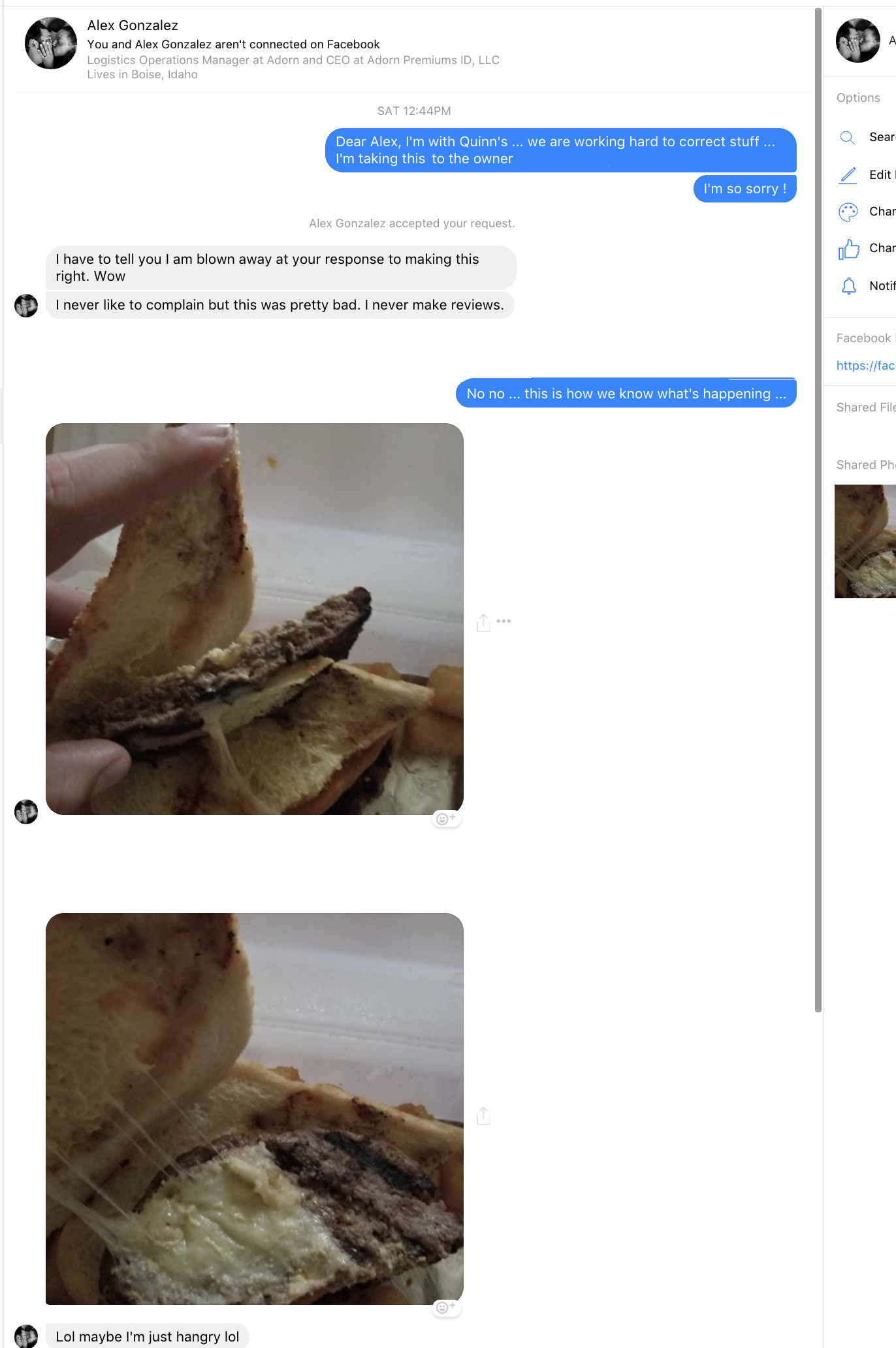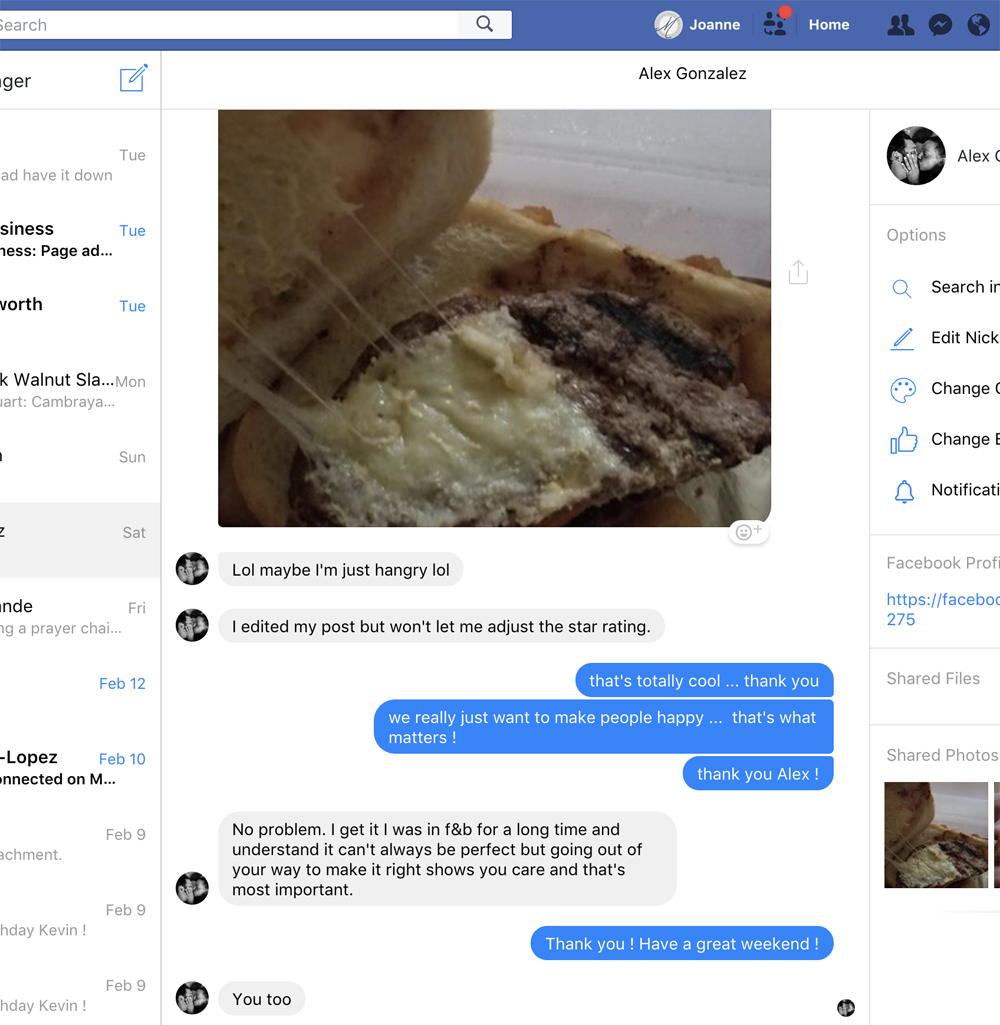 Facebook Reviews

Today


July 2017
These numbers represent two Quinn's Facebook pages.

Yelp Reviews
Today


July 2017
3
out of 5 stars
Google Reviews
Today
126 Total reviews

3.8 out of 5 stars
July 2017
65 total reviews
3.7

out

of

5

stars
Reviews for Quinn's aren't coming in great numbers.

That's both good and bad ::

Good reviews are GREAT for business.

Bad reviews are TERRIBLE for business.

We can get more reviews. But, I can't recommend we do that until we are pretty sure the reviews we get are good reviews. Getting more bad reviews is damaging.

They Gotta' Love It

People don't write reviews unless they didn't like their experience, or they WAY LOVED it !

It's not hard to get GOOD reviews, but it will require DOING and REPEATING these two steps ::

a. look at negative reviews and fix issues that come up more than once

b. always respond to both GOOD and BAD reviews with thanks and the message "we'll fix this" for anything negative (we are doing this part, but without a., we aren't doing enough)

People Love Quinn's

People love Quinn's. Even the people that leave negative reviews ! Leverage this to get good reviews, even when things don't go perfectly.

What Are People Saying ?
Revised 2-21-6:08
I want to add that most reviews are positive. That says a lot. People will write a review to complain when they won't to praise. Knowing that, you can prevent some of the negative reviews by simply offering something in return for the person's dissatisfaction. As the example above illustrates. I never asked him to change his review, he simply did so. Which is good ! He took it from a 1 to a 4. Glad he didn't post those photos on the review. Those were just to me.

The number one reason reviewers give for their negative rating is that service was not satisfactory. AND, that when they complained, no one seemed to care enough to repair the damage, on-site.

What To Do To Get Good Reviews

1. improve service (wait times, handeling complaints and special orders, etc.)

2. fix issues as they arise

Then, ask for reviews.

Ask for Reviews When Ready

- print How We Doin' forms [Take One / Fill One Out] with list of Quinn's review sites

- use social media to ask customers to leave reviews

- carefully reward reviews (reposting, mentiong customers, etc.)

- consider increasing social media spend to attract reviews, instead of adding advertising costs

I strongly discourage paid ads with Yelp. The benefits won't outweigh the cost.

Quinn's received 17 reviews in 2017 on Yelp ... almost half were good, almost half were not good, a couple were in between. Advertising with Yelp won't make the negative reviews disappear, Yelp may move some to their 'not recommended' section, but your money is better spent improving service, to get GOOD reviews organically. That's the only way to keep better reviews coming in.